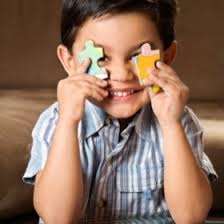 I recently received the following e-mail from a reader:
Q: Hi Anel. I have a four year old boy who just does not like doing puzzles.  His teacher keeps telling us how important puzzles are and that we should practice doing them at home. I've sat down with him so many times to build one, but he complains that he's bored or that he "can't do it" and then runs off to go and play.  Please help – how do I get him to do puzzles as it is one of the things they assess him on for his report?
Try the following:
1. Be sure to get puzzles with themes and pictures that he's really interested in.  Look out for puzzles with prints of his favourite cartoon character or Superhero.
2. Invest in a good puzzle tray.  These wooden trays enable children to build the puzzle in the tray and prevents pieces from going missing.  The best part about the tray is that it can be stored away when your child looses interested and taken out for him to simply start out where he left off  when he's in the mood to build again.  This works especially well for children with short attention spans.  The trays can be bought from most educational toy stores – or simply use a light weight tray from your kitchen.
3. Start off with less pieces.  Don't spend too much time worrying about what size puzzle is age-appropriate.  Rather get easier puzzles with less pieces to start off with.  Your child will likely find these less intimidating and will experience a sense of mastery as he manages to complete them.  Gradually move onto puzzles with more pieces as his puzzle building skills improve.
4. Start building the puzzles by yourself.  If he doesn't want to build the puzzles – don't force him.  Simply start building it yourself – children will often leave what they are busy with to come and investigate when they see that their parents are engaged in an activity.
5. Teach him how.  I usually don't encourage parents to teach their children a specific puzzle building method as it is a great exercise in problem solving to try and figure out for themselves how to put it all together.  But some children are simply so overwhelmed by the task that they do not even know how to begin.  Teach him the following steps:
 Turn all the pieces over so that you can see the picture on each.
 Turn the lid over so that you can see what the picture should look like when complete.
Find all the pieces that have a "flat" edge.
Use these pieces to complete the border.
Now start working your way inward focusing on the most prominent features of the picture first.
6. Don't sweat it.  Puzzles are an excellent way to encourage the development of so many different aspects of learning in your child (and this is why pre-schools put so much emphasis on puzzle building) – but they are by no means the only way.  There are virtually tons of other activities to help encourage these skills and id he really continues to hate building puzzles despite your best efforts – give it a skip and find another educational activity that he enjoys doing.
Related articles:  Kids learning – the importance of puzzles